The 
MicroBlaster™
 product line by
EZBreak
, is a suite of patented rock breaking equipment that is powerful, portable, lightweight, and affordable.  It is easily operated by contractors, excavators, field workers, and more to efficiently remove boulders, concrete structures, and rock formations.  Our devices may be used in many instances where much costlier techniques are typically required, resulting in a considerable reduction of cost and time.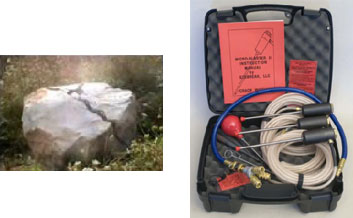 New Hampshire Hydraulics, Inc. is an Authorized Distributor for the MicroBlaster in the States of New Hampshire, Maine, Vermont, Connecticut, Massachusetts & Rhode Island.
We normally stock the triple head kit (MBllX3) and the basic supplies needed to get our customers up and running on their first project. We can order any of the other items you will find on their website found
here
. Call us at
800-544-5900
for pricing and availability.
Is it legal?
The short answer is yes, no special licenses are required. We have searched Federal and State Explosive Laws, supplied to us by the Bureau of Alcohol Tobacco and Firearms (BATF) and found no regulations requiring permits or licenses. This does not mean that local laws and regulations governing these products do not exist.   Check with local authorities for compliance. In over two years of producing these products we have yet to encounter any regulatory issues with the Micro-Blaster System and its use.* Update: 10/10/2007 -
In the state of Massachusetts permitting is required.
Regulation and Legal Information
Supplied by EZEBREAK.COM