Hydraulic Hammers & Attachments
New Hampshire Hydraulics is pleased to offer some of the highest quality Hydraulic Breakers & Construction Machinery Attachments on the market today. We also offer repair and rebuild services for most every brand of hydraulic hammers. Please take a look below and
Call us today at 1-800-544-5900 for price and availability!
---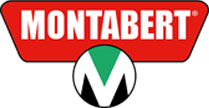 Montabert Hammers and Attachments: For almost a century, Montabert® has been forging hydraulic attachments for a wide variety of applications. Designed for heavy-duty jobs in quarries, mines, trenching, demolition and public works. Montabert® offers attachments with several patents that guarantee high productivity. (Montabert Formerly know as TRAMAC)
---
Hydraulic Hammer Repair & Rebuild Service
New Hampshire Hydraulics is a Factory Authorized Repair and Service Facility for Montabert Hydraulic Hammers. We also repair most other brands as well. Our experienced technicians are well trained to inspect the internal components of hydraulic hammers for damage and wear. Anything worn beyond factory specs is either replaced or reconditioned. Most hammers are given a free evaluation and a free estimate is provided with no obligation to proceed*. Each hammer is then repaired, tested and painted to bring it back to like-new condition. Each full repair** receives a 1 year warranty.
Free pick up and delivery is available for most hammers in most areas of new England and Eastern, NY.
* If repair estimate is refused, the hammer is either scrapped or returned to the customer completely apart at no charge. ** Full repair means all recommended parts and repair methods are approved by the customer.